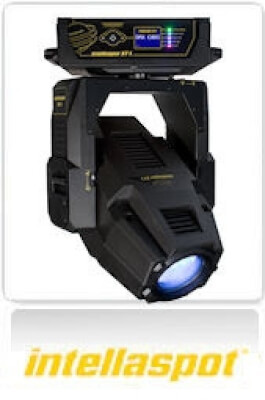 Intellaspot XT-1
The intellaspot represents the next generation in innovative optics, providing high lumen output, energy efficiency, zoom range, and overall feature set — all at a highly economical price point.
PRODUKT JIŽ NENÍ URČEN K PRODEJI
Základní informace
The fixture is a hard-edged moving yoke light featuring smooth CMY color mixing as well as variable CTO.  A fixed color wheel allows instant color choices via easily exchangeable dichroic filters.  Two rotating Lithopattern® wheels, each with seven patterns plus open, provide a large number of output patterns and images.  The output can be further enhanced with a rotating prism and an animation wheel. 
Detail
With a powerful optical system, the intellaspot not only produces an extreme 20,000 lumen output from the 850w HID lamp, but also provides clear projections with a large zoom range of 11° to 55°.  With its fast mechanical iris, variable soft edge, and electronic strobing, the intellaspot is truly a full featured automated luminare.

The intellaspot also includes the stunning Indigo Highlighter feature. Exclusive to the intellaspot, the indigo highlighter provides designers with additional light output from four 1-watt indigo LEDs, thus increasing the layering abilities of the large-exiting aperture fixture.

Built on an entirely new platform, the intellaspot combines new technologies to create an exceptionally energy-efficient fixture that conforms to modern "greening" principles.  A battery-controlled full color LCD menu system enables fixture addressing without having to power up the unit.  Low ambient noise, RDM, and extensive DMX capabilities make the intellaspot the professional choice for a wide variety of applications.
Specifikace
Features
Auto-ranging 100-240V 50/60 Hz
High efficiency 20,000 lumens
850w HID lamp - 750 hrs.
5:1 Zoom - 11°-55°
CMY color mixing plus variable CTO
Color wheel with replaceable positions
Two seven position plus open rotating gobo wheels
Rotating prism
Animation system
Mechanical and Electronic strobe
Variable soft edge
Fast mechanical iris
Unique Indigo Highlighter LED output
Color LCD menu with battery operation
Low ambient noise
RDM compatible
Optional touring roadcase
Operation
Auto-switching power supply
100v-240v
41 DMX channels
DMX/RDM Connector: 5-pin XLR

Construction
Modular construction
Fast service design for all components
Electronic cooling system control
Stunningly fast, smooth and quiet yoke movement using proprietary multi-phase technology
Performance oriented exterior design prevents stray light scatter
Pan and tilt locks for easy transportation
Easy carried with yoke-arm handles
One year product warranty and technical support
Patents Pending
Specifications Subject to Change Without Notice
NAVRHNEME VÁM ŘEŠENÍ NA KLÍČ
Hledáte technologického partnera? Neváhejte se na nás obrátit.