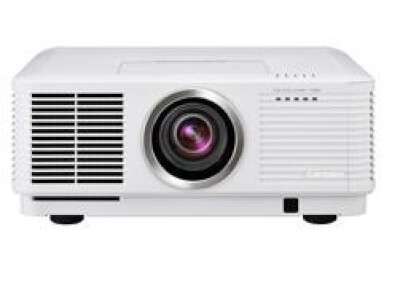 XD8100U
Profesionální projektor s vysokým jasem, rozlišením XGA 1024 x 768 a se dvěmi lampami je spolehlivým řešením pro velké prostory a konferenční sály.
PRODUKT JIŽ NENÍ URČEN K PRODEJI
Detail
Delivering 7000 Lumens, the XD8100U performs superbly in large meeting rooms or conference venues. Featuring a unique, patented image processing algorithm that analyses the input signal and extrapolates high-definition data missing from the original image in real time. The result is startlingly clear, bright, pin-sharp images with every detail faithfully reproduced. Mitsubishi's Natural Colour Matrix (NCM) allows intermediate colours – yellow, cyan and magenta – to be controlled independently of red, green and blue, allowing accurate and vivid colour reproduction across the spectrum. The XD8100U also features built-in edge blending technology, advanced colour-matching to ensure flawless multi-projector performance, Picture-In-Picture facility and much more. A real professional installation and rental projector. Other features: Lamp Relay Mode Automatic Self-Cleaning Filter Heat-pipe Cooling System Colour matching Interchangeable Colour Wheel Remote Control to Match the Installation Network Connectivity Stand-by Mode under 0.3W Geometric Correction Cornerstone Correction Curved Surface Projection Correction Edge Blending and Colour Matching 24/7 Operability Through extensive engineering and testing, Mitsubishi can confirm the XD8100U, WD8200U, UD8350U and UD8400U can be operated 24 hours a day, 7 days a week. Engineered to the highest standard, Mitsubishi is confident that these DLP® models offer the perfect solution for full system integration where a long life performance is required. However, for better performance we highly recommend to turn off the projector for at least one hour a week. The regular Terms of Guarantee for Mitsubishi Projectors apply on the above mentioned models.
Specifikace
čip:
1 x 0,7" DC3 DDP3020 DLP Chip
jas:
7000 lm / 3500 lm = jedna lampa
rozlišení:
XGA 1024 x 768 (786.432 pixel)
výměnné objektivy:
ano
LAN:
ano
počet lamp:
2
rozměry

(š x v x h):
490 x 201 x 506 mm
hmotnost:
16,5 kg

projekční poměr:
1.72-2.33:1
NAVRHNEME VÁM ŘEŠENÍ NA KLÍČ
Hledáte technologického partnera? Neváhejte se na nás obrátit.