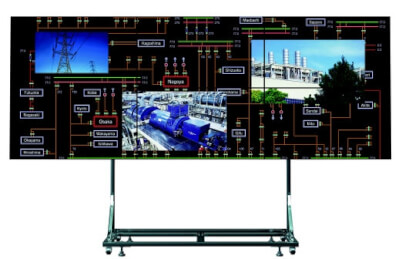 VS-L46XM70U
Ultra Slim 46" LCD Panel for building Display Walls The VS-L46XM70U is designed for the control room market and can be used to create a very compact, standalone display wall system.
PRODUKT JIŽ NENÍ URČEN K PRODEJI
Detail
Mitsubishi's Color Space Control accurately harmonises the colour and brightness of each display automatically and Digital Gradation Circuits raise the brightness level at the edges of each display so that the brightness level is constant across the whole display wall. Each display shares data from its built-in brightness sensor with its neighbours, enabling the Dynamic Brightness Balancing feature to maintain a consistent display performance over long periods of time.

Internal processing
Each display is equipped with an internal data-processing function that allows up to three windows* of any size to be displayed on a single panel, a series of panels or across the entire wall without the use of an external processor. If the background image is not activated, up to six windows per panel can be displayed using the Picture-in-Picture (P-in-P) function.

Specifikace
Display Device: TFT LCD(SPVA Mode)
Brightness: 700cd/m2 (Max.),500cd/m2 (Typ.)
Display Resolution: WXGA(1366 x 768 Pixels )
Screen Size: 46" diagonal viewable
Contrast Ratio: 3000:1
Viewing Angle: 178Degree
Display Colours: 16.7Million(8Bit)
Mullion Total: 7.3mm
NAVRHNEME VÁM ŘEŠENÍ NA KLÍČ
Hledáte technologického partnera? Neváhejte se na nás obrátit.