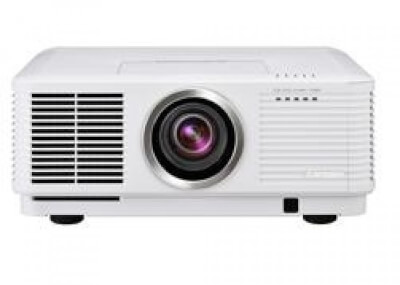 UD8400U
Profesionální projektor s vysokým jasem, rozlišením WUXGA 1 920 x 1 200 a se dvěmi lampami je spolehlivým řešením pro velké prostory a konferenční sály. Přístroj se nabízí i v červném provedení.
PRODUKT JIŽ NENÍ URČEN K PRODEJI
Detail
Delivering 6500 Lumens, the UD8400U performs superbly in large meeting rooms or conference venues. Featuring a unique, patented image processing algorithm that analyses the input signal and extrapolates high-definition data missing from the original image in real time. The result is startlingly clear, bright, pin-sharp images with every detail faithfully reproduced. Mitsubishi's Natural Colour Matrix (NCM) allows intermediate colours – yellow, cyan and magenta – to be controlled independently of red, green and blue, allowing accurate and vivid colour reproduction across the spectrum. The UD8400U also features built-in edge blending technology, advanced colour-matching to ensure flawless multi-projector performance, Picture-In-Picture facility and much more. A real professional installation and rental projector. Other features: Lamp Relay Mode Automatic Self-Cleaning Filter Heat-pipe Cooling System Colour matching Interchangeable Colour Wheel Remote Control to Match the Installation Network Connectivity Stand-by Mode under 0.3W Geometric Correction Cornerstone Correction Curved Surface Projection Correction Edge Blending and Colour Matching SDI input terminal (3G-SDI/HD-SDI/SD-SDI) Geometric Corrections: Keystone Correction Trapezoidal distortion caused when the projector is not positioned directly in front of the screen is corrected in both vertical and horizontal directions. Cornerstone Correction Pixel conversion is used to correct trapezoidal and diagonal distortion that causes oblique images, ensuring the proper aspect ratio. 24/7 Operability Through extensive engineering and testing, Mitsubishi can confirm the XD8100U, WD8200U, UD8350U and UD8400U can be operated 24 hours a day, 7 days a week. Engineered to the highest standard, Mitsubishi is confident that these DLP® models offer the perfect solution for full system integration where a long life performance is required. However, for better performance we highly recommend to turn off the projector for at least one hour a week. The regular Terms of Guarantee for Mitsubishi Projectors apply on the above mentioned models.
Specifikace
čip:
1 x 0,67" DLP Chip
jas:
6500 lm / 3250 lm = jedna lampa
rozlišení:
HDTV 1920 x 1080 (2.073.600 pixel)
výměnné objektivy:
ne
LAN:
ano
počet lamp:
2
rozměry

(š x v x h):
490 x 201 x 506 mm
hmotnost:
16,5 kg

projekční poměr:
1.65-2.23:1
NAVRHNEME VÁM ŘEŠENÍ NA KLÍČ
Hledáte technologického partnera? Neváhejte se na nás obrátit.