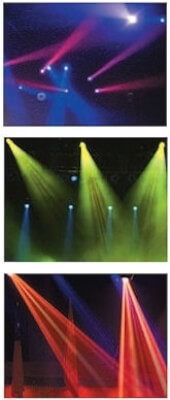 Technospot
Designed for a wide variety of small and medium scale performance applications, Technospot is a compact hard-edge luminaire with exceptional value and performance.
PRODUKT JIŽ NENÍ URČEN K PRODEJI
Základní informace
A full featured fixture designed for club, stage, and studio applications where environmental durability and high quality output are required.

Technospot features smooth CMY color mixing and a fixed color wheel. Two rotating Lithopattern® wheels, each with six patterns plus open, provide a large number of output patterns and images. The output can be further enhanced with a rotating prism and an animation wheel. 
Detail
Following the professional lighting, large exiting aperture trend, Technospot features a prominent 5.3 inch lens, 11° to 34° zoom, and over 12,000 lumens of output. With its incredibly efficient optics, Technospot outperforms other luminaires in its range and projects clean crisp images that cut through any wash. Rotating and animating patterns, four-facet prism, fast iris, unique animation wheel, and superb color systems make Technospot a great value in low-cost automated lighting.

technospot also features the indigo highlighter which provides additional light output from four 1-watt indigo Leds, thus increasing the layering abilities of the large aperture fixture.

Technospot offers designers and operators a versatile, fully integrated system with unprecedented brightness, speed and accuracy for a light of its kind.
Specifikace
Features:
High efficiency 12,000 lumens
575w mini-fast fit lamp - 750 hrs.
Fast 3:1 zoom - 11°-34°
CMY color mixing
Color wheel with eight replaceable positions plus open
Two six position plus open rotating gobo wheels
Rotating 4-facet prism
Animation wheel
Mechanical strobe
Fast mechanical iris
Unique Indigo Highlighter LED Output
Color LCD menu with battery operation
Low ambient noise
RDM compatible
Included roadcase

Operation:
Auto-switching power supply 100v-240v
37 DMX channels
DMX/RDM connectors: 5-pin XLR, 3-pin XLR

Construction:
High resolution microstepping motor control for smooth
motion at all speeds
Stunningly fast, smooth, and quiet yoke movement
Computer designed optical components for maximum light
efficiency
Performance-oriented exterior design prevents stray light
scatter
Low noise, high efficiency cooling system
3-pin and 5-pin XLR connectors

Mechanical Specifications:
Electronic cooling system control
Pan and tilt locks for easy transportation
ELT/UL and CE compliance
One year product warranty and technical support
Patents Pending
Specifications Subject to Change Without Notice
NAVRHNEME VÁM ŘEŠENÍ NA KLÍČ
Hledáte technologického partnera? Neváhejte se na nás obrátit.