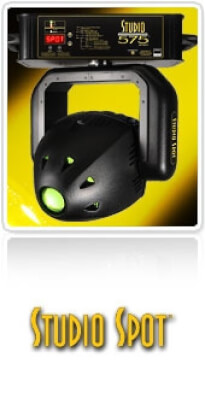 Studio Spot CMY Zoom
The Studio Spot CMY Zoom is a hard-edged moving yoke light featuring graduated color wheels for smooth, infinite CMY color mixing.
PRODUKT JIŽ NENÍ URČEN K PRODEJI
Základní informace
Superior optics deliver a wide range of options, from beam-shaping effects to near photo-quality image and Lithopatterns® projection. Two rotating gobo wheels with 10 optional gobos and effects widen your projection versatility. We've also equipped the Studio Spot CMY with a power supply and power factor correction, along with numerous advanced features, including remote focus, variable speed iris and smooth mechanical dimming. An innovative 18° - 30° stepless zoom lens covers the most popular beam angles and can be used side-by-side with normal lenses for a perfect match. Whether used on the road or in an architectural setting, the Studio Spot CMY's superior optics, pan and tilt movement and sophisticated styling make it the perfect high-precision instrument for a wide range of applications.
Specifikace
Features
Two fully rotating, fully indexable litho wheels with five replaceable lithos or effects and one fixed open position
Variable frost (with fixed-focus lens only)
Variable iris
Variable strobe - dimmable while strobing
Remote focus
Standard 18° - 30° zoom lens
LithoPatterns® high-resolution glass gobos deliver customizable, near photo-quality image projection
Full optical dimming and fade to black
Optical encoders automatically correct head position if manually moved
Construction
High-resolution microstepping motor control for smooth motion at all speeds
Stunningly fast, smooth, and quiet yoke movement using proprietary multi-phase technology
Computer-designed optical components for maximum light efficiency
Performance-oriented exterior design prevents stray light scatter
Convection cooled for quiet, fanless operation via integrated heatsink and reflector combination
3-pin XLR connector
Operation
370° pan and 255° tilt movement
Operates on 24 DMX channels in standard protocol
Power Consumption: 700W max.; 100V - 240V, 50/60Hz
Auto-switching power supply
Options
MSD 575 lamp (for enhanced lamp life)
NAVRHNEME VÁM ŘEŠENÍ NA KLÍČ
Hledáte technologického partnera? Neváhejte se na nás obrátit.