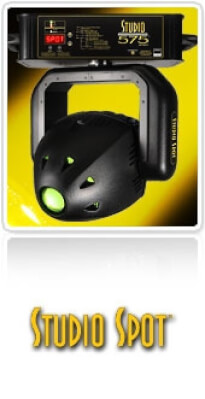 Studio Spot 575 Zoom
The Studio Spot 575 Zoomis the ideal hard-edged beam companion to the award-winning Studio Color® wash fixture.
PRODUKT JIŽ NENÍ URČEN K PRODEJI
Základní informace
With its incredibly efficient optics, this fixture outperforms luminaires with lamps twice as powerful. It also projects clean, crisp images that cut through any wash. Ten user-selectable gobos and effects can be installed in two rotating gobo wheels for a wide variety of pattern or logo projections. Options include both standard and custom Lithopatterns® high-resolution media, which offers near photo-quality image projection. The fixture also offers a wide range of additional optical features, including remote focus and strobe effects. An innovative 18° - 30° stepless zoom lens covers the most popular beam angles and can be used side-by-side with normal lenses for a perfect match. An intensely bright, quiet and reliable fixture with precision optics, the Studio Spot is ideal for studio environments or the perfect complement to any rig's wash light luminaires.
Specifikace
Features
Two color wheels, one with five replaceable colors, including one color corrector and one fixed open position, and a second with five replaceable colors and one fixed open position
Up to 35 possible color combinations
Two fully rotating, fully indexable litho wheels with five replaceable lithos or effects and one fixed open position
Variable frost (with fixed-focus lens only)
Variable iris
Variable strobe - dimmable while strobing
Remote focus
Standard 18° - 30° zoom lens
LithoPatterns high-resolution glass gobos deliver customizable, near photo-quality image projection
Full optical dimming and fade to black
Optical encoders automatically correct head position if manually moved
Construction
High-resolution microstepping motor control for smooth motion at all speeds
Stunningly fast, smooth, and quiet yoke movement using proprietary multi-phase technology
Computer-designed optical components for maximum light efficiency
Performance-oriented exterior design prevents stray light scatter
Convection cooled for quiet, fanless operation via integrated heatsink and reflector combination
3-pin XLR connector
Operation
370° pan and 255° tilt movement
Operates on 24 DMX channels in standard protocol
Power Consumption: 700W max.; 100V - 240V, 50/60Hz
Auto-switching power supply
Options
MSD 575 lamp (for enhanced lamp life)
NAVRHNEME VÁM ŘEŠENÍ NA KLÍČ
Hledáte technologického partnera? Neváhejte se na nás obrátit.