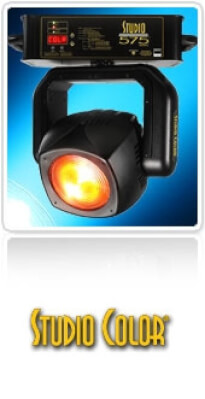 Studio Color 575
Studio Color 575 is the optimum wash light for powerful color mixing and beam shaping.
PRODUKT JIŽ NENÍ URČEN K PRODEJI
Základní informace
This fixture offers a full designer's palette, including virtually unlimited color selection, dimming, strobe and shutter, variable beam-shaping, variable frosting, and precision positioning. Its quiet, convection cooling has established it as a favorite among theatre designers. This amazing combination of features has made the Studio Color 575 a staple of the entertainment industry.
Specifikace
Features
CMY color mixing system
Color wheel with five replaceable colors, including one CTO color corrector and one open position
Two effects wheels with beam-shaping – one wheel with frost and one with wide-angle lens
Variable frost
Variable strobe
Selectable beam angle (8° to 22°)
Full optical dimming and fade to black
Optical encoders automatically correct head position if manually moved
Construction
High-resolution microstepping motor control for smooth motion at all speeds
Stunningly fast, smooth, and quiet yoke movement using proprietary multi-phase technology
Computer-designed optical components for maximum light efficiency
Performance-oriented exterior design prevents stray light scatter
Easy lamp replacement
Convection cooled for quiet, fanless operation via integrated heatsink and reflector combination
3-pin XLR connector
Operation
370° pan and 240° tilt movement
Operates on DMX control
Occupies 16 DMX channels in standard protocol
Quick lamp ignition
Auto-switching power supply
Power factor correction
Power Consumption: 700W max.; 100V - 240V, 50/60Hz
Options
MSD 575 lamp (for enhanced lamp life)
NAVRHNEME VÁM ŘEŠENÍ NA KLÍČ
Hledáte technologického partnera? Neváhejte se na nás obrátit.