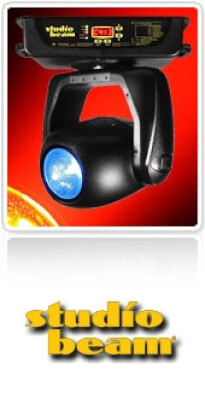 Studio Beam
Studio Beam features intense light output with full color mixing and sophisticated beam control.
PRODUKT JIŽ NENÍ URČEN K PRODEJI
Základní informace
This fixture is ideal for creating soft-edge key and long-throw highlighting as well as intense aerial effects. We've equipped the Studio Beam with an electronic strobe, an industry first for automated wash lights. Extreme high-output color mixing coupled with a large zoom range and beam-shaping functionality has earned Studio Beam a distinctive niche in lighting design.
Specifikace
Features
CMY color mixing, plus three additional fixed colors, including one CTO color corrector
Variable frost
Large zoom range: 15° - 30°
Variable conventional strobe
Electronic strobe (patented)
Light Burst™ lamp boosting (patented)
Full optical dimming and fade to black
Optional encoders automatically correct head position if manually moved
Warm-start circuitry allows lamp re-strike less than one minute after extinguishing
Selectable audio modulation
3-pin and 5-pin XLR connectors
Construction
Stunningly fast, smooth, and quiet yoke movement using proprietary multi-phase technology
Computer-designed optical components for maximum light efficiency
Performance-oriented exterior design prevents stray light scatter
Low-noise, temperature-sensing, high-efficiency cooling system
Operation
540° pan and 256° tilt movement
DMX-512, Time Code Sync and Front Panel control options
Occupies 16 DMX channels in standard protocol
On-board programming, control and playback
Power consumption: 1000W; 100V - 240V. 50/60 Hz
NAVRHNEME VÁM ŘEŠENÍ NA KLÍČ
Hledáte technologického partnera? Neváhejte se na nás obrátit.