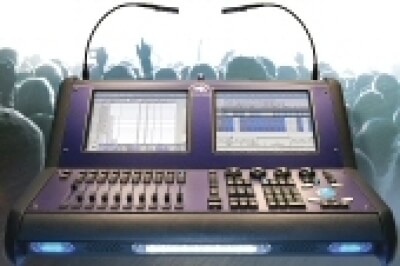 Road Hog Full Boar Console
The Road Hog Full Boar expands your possibilites with an unprecedented amount of power and options.
PRODUKT JIŽ NENÍ URČEN K PRODEJI
Základní informace
Designed from the ground up to provide superb lighting control with powerful programming procedures. Equipped with Flying Pig Systems renowned Wholehog software, you are able to create, manage, edit and playback lighting to enhance any production environment.
Detail
The Road Hog Full Boar increases your abilities to the full extent with a sophisticated and expandable system. Go Full Boar with unlimited DMX output, integrated Art-Net output, MIDI, SMPTE, dual external monitors or touchscreens, DVDRW and more. Using legendary Wholehog console hardware and the proven combination of Windows XP Embedded with the Wholehog operating system means outstanding durability and productivity. Road Hog Full Boar is the premier choice for achieving cutting-edge lighting with unlimited power and flexibility.
Specifikace
Features
Robust Wholehog Operating Software
Unlimited number of simultaneous crossfades
Two internal 12-inch high-brightness color touchscreens
Two external monitors or touchscreens supported
Backlit trackball with four configurable buttons for cursor and position control
Ten playback faders with familiar playback controls

(Choose, Go, Pause, & Flash)

Hog-Net and Fixture link Ethercon connectors
Internal Hard disk drive
Removable USB Flash drive included
Internal DVDRW drive
USB ports for Wholehog wings and external touchscreens
Real time clock
Desklights, feedback LEDs and integrated worklight all dimmable
Auto-ranging mains input (90-250VAC)
Dust cover included
Custom road case included
Connectivity
2048 DMX channels via 5-pin XLR
expandable to 6144 DMX-512 channels via USB
6144 DMX-512 channels via Art-Net and E1.3.1 (sACN) output
Unlimited number of DMX channels via Ethernet DPs
Unlimited number of Art-Net and E1.3.1 (sACN) universes via Ethernet DPs
MIDI Input, Output, and Thru supports MIDI Show Control and MIDI Time Code
Single LTC input via 3 pin female XLR connector
Connectivity with many visualizers via Ethernet
Wired and wireless networking ability with multiple Wholehog console systems
Remote Focus capabilities when networked with a tablet PC running Hog 3PC software
Supports USB Playback and Expansion Wings
Console Dimensions: 759 mm x 572 mm x 310 mm
Console Weight: 20.8 kg
NAVRHNEME VÁM ŘEŠENÍ NA KLÍČ
Hledáte technologického partnera? Neváhejte se na nás obrátit.