Základní informace
Powerful processing and graphics
ScioTeq's MOSArtTM middleware platform for hosting multiple software applications at different DAL levels
Compliant with DO-178B 
Large array of Input and Output interfaces
The PU-2000 is a multi-capability Processing Unit intended for use as a Symbol Generator in both new and retrofit Electronic Flight Instrument Systems. The unit is designed to process high-criticality data, to generate various display formats, such as PFD, MFD or EID and to overlay symbology.
Thanks to its highly flexible, modular design, the PU-2000 can also be used as a common computing platform in a large variety of functions, with or without graphics capability: mission computers, customer-supplied or ScioTeq-developed single software platforms, etc.
Thanks to its MOSArt architecture (Modular Open System Architecture for real time avionics applications), the PU-2000 Processing Unit can host various software applications with different criticality levels. This enables customers to develop or port their application on ScioTeq hardware while preserving the different criticality levels. Importantly, these hosted applications can be individually designed to varying Design Assurance Levels (DAL), reducing development and integration costs.
Specifikace
Computing & Graphic module
PowerPC based CPU, OpenGL ES SC capable GPU
RTOS
ARINC-653 WindRiver Vxworks RTOS
ScioTeq MOSArtTM open platform
Allows development and hosting of customer supplied, 3rd party or ScioTeq applications. Can host multiple applications at different DAL levels simultaneously.
Video Outputs (1)
2 dual-head (independent) DVI outputs + 2 additional DVI outputs (copies)
Analog video output (CVBS)
Video Inputs (1)
2 analog video inputs (1 RGB, 1 CVBS)
Control Interfaces (1)
Up to 60 discrete I/Os
Up to 24 ARINC 429 inputs
Up to 8 ARINC 429 outputs
Up to 2 ARINC 708 inputs
Single or double dual redundant MIL-STD-1553B (busses A&B or A,B, C&D)
Up to 16 analog inputs
2 Ethernet connections
2 RS-422/485 I/Os
3 RS-422 I/Os
Mass memory

Some combinations of the above I/O may be restricted.
Contact ScioTeq for details or other custom options.
Power supply
28VDC, MIL-STD-704A
Power consumption
< 60W (operating - typical)
Weight
4.5 kg / 9.9 lbs
Cooling
Forced air cooling via cold wall
Dimensions (WxHxD)
156.6mm (Width) x 235.2mm (Height) x 222.5 mm (Depth incl. connector flange)
Software
developed to RTCA/DO-178B DAL B, capable of hosting applications up to DAL B
Compliance
DO-160G; (optional MIL-STD-810G & MIL-STD-461E)
High temperature
+55C operational / +70C short-time / +85C ground survival
Low temperature
-45C operational / -55C ground survival
Altitude
50,000 ft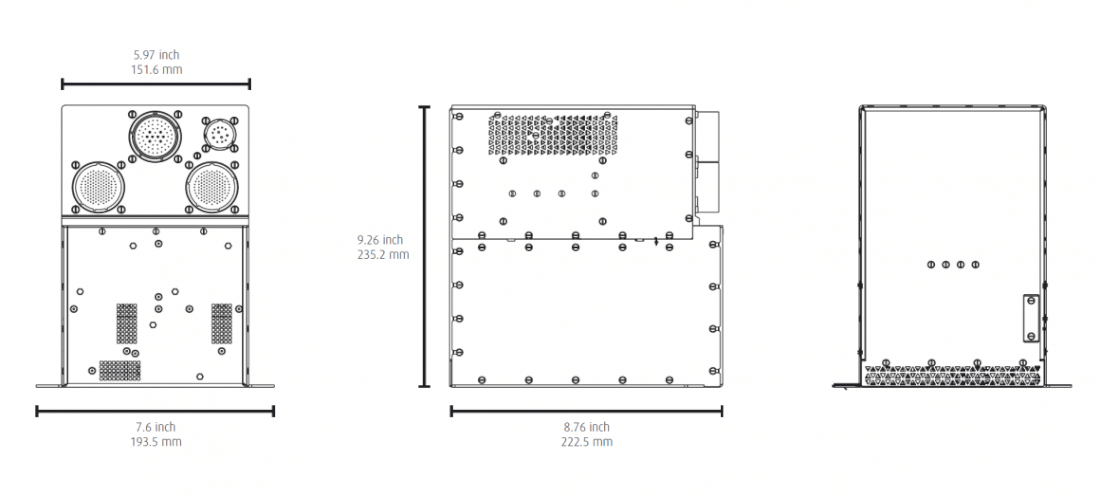 NAVRHNEME VÁM ŘEŠENÍ NA KLÍČ
Hledáte technologického partnera? Neváhejte se na nás obrátit.