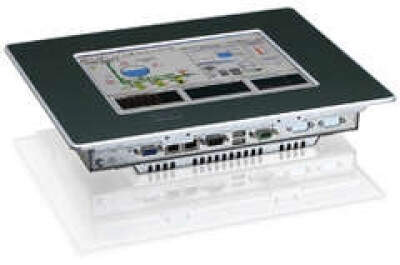 Micro Client II M@C150
MicroClient II s displejem 15" a rozlišením 1024x768 bodů osazený procesorem Pentium Celeron a pamětí do 1GB. display size: 15.0" resistive analog touch screen X86 processor small depth of 56 mm Dimensions(HxWxD): 354x450x56 mm Compact Flash and/o
PRODUKT JIŽ NENÍ URČEN K PRODEJI
Detail
Cost conscious human machine interface with superior price/performance ratio
Kontron's Micro Clients (Thin Clients) used as web-based display and operator panels with all the application programs running on a central web server are very low-maintenance and also highly flexible. The advantages of this thin client architecture include centralized administration and software maintenance, maximum data security through centralized data storage and backup, and high reliability and availability (high MTBF values) through the elimination of rotating mass storage devices and fans, which reduces the total cost of ownership to the minimum.
Designed to meet the performance requirements of visualization and communications over ethernet, the new Micro Clients M@C70, M@C104, M@C121 and M@C150 have high-performance ETX-based x86 CPU modules that can be scaled inexpensively to meet changing performance needs. The innovative fanless cooling concept allows for a compact, space-saving system .
Shock and vibration resistance, thermal stability and compliance with the strictest EMC standards are standard features for all Micro Clients.
Vlastnosti
| | |
| --- | --- |
| Dimensions (H x W x D) | 354 x 450 x 56 mm |
| Display | 15.0 |
| I/O Standard | 2xUSB rear, 1x USB front, 1xRS232, 1xRS 232/422/485 optional, 2xLAN 10/100 |
| Processor | up to Celeron M 1 GHz |
| Weight | ca. 6.5 kg |
NAVRHNEME VÁM ŘEŠENÍ NA KLÍČ
Hledáte technologického partnera? Neváhejte se na nás obrátit.