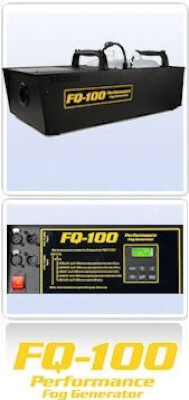 FQ-10 Fog Generator
The FQ-100™ performance fog generator is designed to meet the rigorous demands of the nightclub, theatrical and touring industries.
PRODUKT JIŽ NENÍ URČEN K PRODEJI
Základní informace
This updated version of the industry standard F-100 fog generator produces any atmosphere – from dense fog to fine mist. The legendary Atmospheres® Fog Generating fluid is specially formulated to provide a dense, safe, water-based fog of a fine particulate size.  In addition to low noise levels ideal for theatrical and studio work, the FQ-100 also includes an internal LCD digital menu system providing the ability to set the volume control, timer control, and DMX functions as desired.  The FQ-100 performance fog generator continues the tradition and benchmark set by the original F-100.
Detail
Large 9.5 liter ( 2.5 gallon) removable fluid reservoir for extended use

Atmospheres® scientifically formulated fluid provides optimum particulate size for lighting applications
LCD Menu

Timer with interval, duration, and volume; set DMX; continuous fogging, Manual ON/OFF

3-pin and 5-pin XLR DMX in/out connectors
Fluid level sight gauge
User replaceable fluid filter
Output
20,000 cu.ft (566m3) per minute maximum output

10 min / 1 liter  fluid consumption rate
11 minutes warm-up time
optoelectronic liquid sensor with auto shutoff
Specifikace
Construction
Low-maintenance, corrosion-resistant vaporizing chamber

Dual carrying handles
Safety cable mounting point
Options
100-120 VAC 50/60 Hz or 200-240 VAC 50/60 Hz
Fluid Types
NAVRHNEME VÁM ŘEŠENÍ NA KLÍČ
Hledáte technologického partnera? Neváhejte se na nás obrátit.