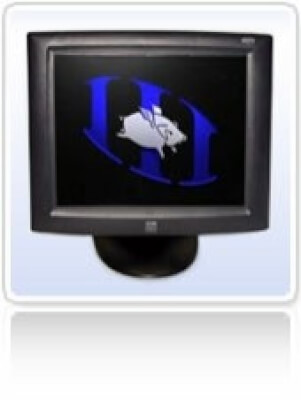 ELO touchscreen monitor
The ELO touchscreen monitor combines a high quality 17" active TFT monitor fitted with an accurate responsive and durable touchscreen.
PRODUKT JIŽ NENÍ URČEN K PRODEJI
Základní informace
The touchscreen monitor provides a simple way to expand your control surface. The external screens may be used in the same way as those built-in to Wholehog consoles.
Detail
The touchscreen monitor is compatible with the Wholehog 3 console and rack mount unit, Road Hog Full Boar console, Hog iPC Console and Hog 3PC software. Adding touchscreen monitors to your Hog 3PC system allows full simulation of console touchscreens.
Specifikace
High quality panel with 160°x160° viewing angle
"Designed for touch" features such as a stable tilt base (–5° from vertical to 90°/horizontal)
USB connection to Wholehog 3 console, Road Hog Full Boar console, Hog iPC Console, and Hog 3PC software
Cables hidden from user's view
Mounting holes on base bottom for tabletop security
Base removable or reversible for wall mounting, plus VESA mounting option
AccuTouch technology with USB interface
Display: 17.0" diagonal Active Matrix TFT
Optimal (native) resolution: 1280 x 1024
Brightness: 205 cd/m2
Response time: 16 ms (typical)
Contrast ratio: 450:1
One Analog (HD15), and one Digital (DVI-D) connectors
One type B USB input socket
External power supply (supplied)
Dimensions: 434 mm (w) x 238 mm(d) x 430 mm (h)
Weight: 13.9 kg
NAVRHNEME VÁM ŘEŠENÍ NA KLÍČ
Hledáte technologického partnera? Neváhejte se na nás obrátit.