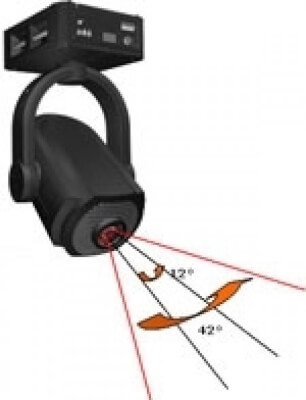 DML-1200 w Axon
The DML-1200 w/Axon is the first moving digital luminaire which can truly be used as both a super bright, moving light source and a high quality video projector.
Základní informace
In light mode, the DML-1200 w/Axon w/Axon produces a perfectly circular light beam with a light output equivalent to that of a 1200W hard edged moving light – 12,000 field lumens, and the brightest digital light on the market today.
Detail
An internal optical dimming mechanism ensures smooth, accurate intensity control from 0 to 100%. This makes sure that your fade to black is a true black and not video black. Lighting designers are no longer limited to static, pre-selected patterns and colors. Any image, static or animated can be created and projected. All images are generated by the onboard Axon Media Server, controlled by Art-Net protocol from the lighting console. With its brightness, unlimited image selection and the ability to seamlessly switch between video projection and light mode, cue by cue, the DML-1200 w/Axon provides designers with pure creativity at their fingertips, whether for fixed or professional rental and staging applications.
Moving Light
Can be rigged, controlled and used as a conventional light
Control over DMX, Art-Net
Pan & tilt
CMY (subtractive) color mixing enables instant color changes as well as smooth, timed color cross-fades
Dimmer / shutter system: 0-100%
Output comparable to a 700 - 1200W fixture
Specifikace
System
Unique Lens

No "video black" around circular spot due to integrated iris
Wide zoom range
Fast and accurate (belt driven)

Projector

Delivers full color DLP quality video with SXGA+ (1400 x 1050 pixel) resolution
Light output in the Video Mode is typically 10.000 Ansi lm
Brightness uniformity > 90°

Sealed optics

Better protection of the optics to guarantee consistent optical performance
All incoming air through High Efficiency Air Filters

High efficient optical engine

Patented optical design
Liquid cooled

Multi purpose lamps:

Individual control of the lamps
No alignment required during replacement (click & play)
Multiple lamps: if one lamp fails, the show continues
4,2 or 1-lamp mode (lower noise level or saving lamps during setup)

Rugged design

Complete chassis in cast aluminum with plastic covers
Flexible mounting of rigging points
The DML-1200 w/Axon comes standard in rugged Flightcase
Axon Media Server
DL.3 software based on Windows XP and DirectX technology
Powerful Content Management and Configuration software can remotely manage multiple fixtures
Supports importing of custom content including: 3D objects, media files, still images
Remote software upgrade capability
Royalty-free stock digital art collection featuring more than 1,400 lighting-optimized files including seven new content providers and three new High End Systems stock content folders
Axon Graphics Engine
Simultaneous playback of nine discrete media streams on separate 2D/3D objects
36 object parameters give you graphic controls for each individual media stream including:

a choice of multiple play modes and play speeds
the ability to define any segment of a video loop including Scrub capability
multiple color mixing and visual effects that can be combined any way you choose
variable opacity to allow for crossfading or dissolves between media streams
full control of image rotation, positioning and scaling on X,Y and Z axes
visual modes that let you control brightness and contrast to optimize content
video input you can apply to 2D/3D objects

52 global parameters provide graphic controls to the composite image created by up to 9 media streams

intensity overlays the opacity control to provide system-wide intensity level
overall image color mixing applied to composite media stream image
color effects including edge colors allow for combined image color mixing
multiple mask selections with edge fading and strobe effects
Chroma Key effects to layer any content by keying on any colormix to make transparent
edge fading for creating montages
keystone correction on output projection
digital shutters on output projection
viewpoint controls provide ability to change viewing angle/perspective on images

Multiple modes for synchronizing all networked fixtures
Content Management Application (CMA)
Versions available for Windows and Mac operating systems
Communicates with DML-1200 w/Axon, DL.3, Axons, and DL.2 fixtures over an Ethernet network
Uploads and downloads custom digital content to DML-1200 w/Axon fixtures
Collage Generator
This patent-pending feature enables multiple DML-1200 w/Axon units to create seamless vertical, horizontal or central panoramic media projections controlled from a lighting console. Using multiple digital lighting fixtures allow you to increase effective screen luminance.
NAVRHNEME VÁM ŘEŠENÍ NA KLÍČ
Hledáte technologického partnera? Neváhejte se na nás obrátit.