Broadsign
Your Digital Signage Control Room The desktop component of BroadSign Suite, BroadSign Administrator is an intuitive interface enabling operators to remotely operate digital signage networks of any size. You can have a copy of BroadSign Administrator fo
PRODUKT JIŽ NENÍ URČEN K PRODEJI
Detail
Your Digital Signage Control Room
The desktop component of BroadSign Suite, BroadSign Administrator is an intuitive interface enabling operators to remotely operate digital signage networks of any size. You can have a copy of BroadSign Administrator for each member of your staff at no additional charge.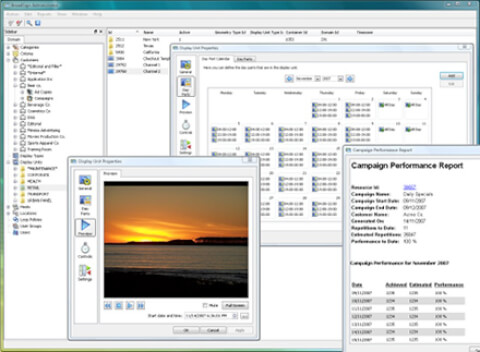 You can assign specific roles to staff members so each of them would be allowed to perform their own functions. A typical breakdown of responsibilities can look like this:
Network operators (IT):
Profile and configure your digital signage network.
Connect/disconnect screens, playback PCs to BroadSign Player software.
Monitor network performance via real-time network health reports.
Troubleshoot issues remotely.
Get help from BroadSign Support.
Advertising Sales/Media Placement managers:
Manage content loop lengths and ad slot durations.
View ad space inventory (avails versus booked space).
Plan a digital signage campaign.
Book network airtime.
Target campaigns using consumer profile, geographic or any other criteria.
Estimate and adjust the number of planned ad repetitions.
Generate campaign plans (Insertion orders) for negotiation and approval by advertiser.
Reconcile advertiser invoices or provide make-goods based on the proof of play reports.
Programming/Traffic (Campaign Execution) managers:
Upload content onto the BroadSign Server and approve it by the advertiser.
Insert specific schedules for each ad copy within the campaign.
Monitor campaign performance via real-time reports.
Verify content playback on any screen.
Generate proof of play reports.
Renew old campaigns.
NAVRHNEME VÁM ŘEŠENÍ NA KLÍČ
Hledáte technologického partnera? Neváhejte se na nás obrátit.