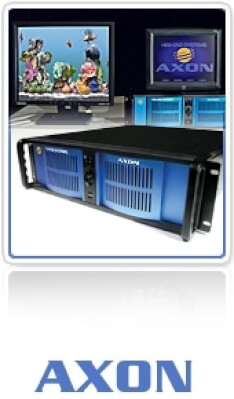 Axon Media Server
The Axon Media Server, powered by the award-winning DL.3 graphics engine, provides you with all the cutting edge functions of the DL.3 fixtures including Collage Generator™ and Curved Surface Support—with the flexibility of choosing your own output device
PRODUKT JIŽ NENÍ URČEN K PRODEJI
Základní informace
It's the flexible solution for those who already have their own video display device, and want a world of unlimited image possibilities.

Axon ships with more than 1,400 stock media clips and has 200 folders for custom media clips.
Detail
Stock Content is locked down using the XP Embedded Operating System. That means all stock content is protected and consistent among all units. The XP Embedded O/S also protects Axon from drive corruption and O/S degradation over time. With the on-board content management software, you are able to move and manage the local media as well as any Axon, DL.3, or DL.2 on the local area network. Axon media servers use the same graphics engine DMX protocol as DL.3 and DL.2 fixtures(a HUGE bonus when programming)—they operate the same way from a DMX console or via Art-Net. Axon media servers include dual HD-SDI inputs and support a wide range of display resolutions. Collage™ software feature: Collage Generator™ This patent-pending feature allows multiple media servers to create seamless vertical, horizontal or central panoramic media projections controlled from a lighting console. Collage™ software also provides a method for increasing effective screen luminance. Use Axon at the Front of House area to preview content and programming for your show. Use it to pre-program DL.3/DL.2 fixtures. Connect another live video source (camera, DVD player) to Axon using HD-SDI or S-Video input. So many ways to deliver!
Specifikace
System
Axon software based on Windows XP and DirectX technology
Powerful Content Management and Configuration software can remotely manage multiple Axon and DL.3 fixtures
Supports importing of custom content including: 3D objects, media files, still images.
DMX512 and Art-Net support
Remote software upgrade capability
Royalty-free stock digital art collection featuring more than 1,400 lighting-optimized files including seven new content providers and three new High End Systems stock content folders
Dual HD-SDI, and S-Video connections accept a wide range of media device inputs
Output resolution up to 2560x1600
Graphics Engine
Simultaneous playback of nine discrete media streams on separate 2D/3D objects
36 object parameters give you graphic controls for each individual media stream including:

a choice of multiple play modes and play speeds
the ability to define any segment of a video loop including Scrub capability
multiple color mixing and visual effects that can be combined any way you choose
variable opacity to allow for crossfading or dissolves between media streams
full control of image rotation, positioning and scaling on X,Y and Z axes
visual modes that let you control brightness and contrast to optimize content
video input you can apply to 2D/3D objects

52 global parameters provide graphic controls to the composite image created by up to 9 media streams

intensity overlays the opacity control to provide system-wide intensity level
overall image color mixing applied to composite media stream image
color effects including edge colors allow for combined image color mixing
multiple mask selections with edge fading and strobe effects
Chroma Key effects to layer any content by keying on any colormix to make transparent
edge fading for creating montages
keystone correction on output projection
digital shutters on output projection 
viewpoint controls provide ability to change viewing angle/perspective on images

Multiple modes for synchronizing all networked Axon and DL.3 fixtures
Content Management Application (CMA)
Versions available for Windows and Mac operating systems
Communicates with Axons, DL.2 and DL.3 fixtures over an Ethernet network
Uploads and downloads custom digital content to DL.3 fixtures
Configures DL.3 fixtures with remote control of all menu commands
COLLAGE GENERATOR
This software feature for Axon, DL.3 and DL.2 has been improved to offer a bigger picture with sharper images and a resolution greater than a High Definition resolution. High End has substantially increased available resolution by 4x from the previous version. Collage Generator now supports any configuration up to 8x16 arrays. Make a horizontal, vertical or central panoramic projection and increase effective screen luminance. Most panoramas can be configured in under 25 minutes.

CURVED SURFACE SUPPORT
Corrects for shape distortions when projecting onto surfaces that are not flat.
• Project Axon onto convex or concave cylinders, angular screens, spheres and disk-shaped surfaces.
• Control the amount of correction needed, as well as control the vertical and horizontal center points of the image.

HARDWARE
3U standard rack mount
Powered by an Intel Core 2 processor with an ATI HD2900 Graphics Processor
Gigabit Ethernet for fast content uploading and multiple fixture synchronization
Dual HD-SDI Inputs

DIMENSIONS
18.3" x 3.5" x 20.8"
(65 mm x 89 mm x 528 mm)
Weight: 33 lbs. (15 kg)
NAVRHNEME VÁM ŘEŠENÍ NA KLÍČ
Hledáte technologického partnera? Neváhejte se na nás obrátit.