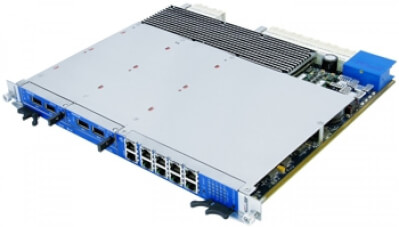 AT8904
AdvancedTCA 10GB Fabric Hub 10GbE service to redundant Hub Board 10GbE service to payload slots 2-15 1x 1000Base-T uplink on front panel Non-blocking Layer 2 switching with VLANs Supports comprehensive set of IP routing and Ethernet/Bridging protoc
PRODUKT JIŽ NENÍ URČEN K PRODEJI
Detail
AdvancedTCA 10 GbE Hub board with 10 GbE AdvancedMC uplinks

The Kontron AT8904 10GB hub is the ideal platform for open modular-based broadband media servers used to support Video on Demand (VoD) from a library of movies, delivered over DSL or CableTV networks, as well as VoD short videos from online service platforms, such as YouTube for example, delivered to mobile phones and wireless clients.

For design engineers of media server applications, the Kontron AT8904 offers exceptional flexibility with two (2) AdvancedMC slots to host any of the following: processor AdvancedMC modules as main controllers; storage AdvancedMC modules as mass storage devices for Processor AMCs; and dual 10GbE uplink AMCs to interlink the Fabric.

Concerning the 10GbE uplinks, Kontron offers the AT8904 hub with the AM4310 Mid-Size Interlink AMC module for a redundant Interlink of multiple ATCA chassis. The AM4310 provides 2 x 10GbE uplinks on the front panel via optical XFP connectors which are routed to the XAUI ports (ports 4-7 and 8-11) on the AMC connectors.

The Kontron AT8904 is designed with built-in Layer 3 routing support and non-blocking Layer 2 switching with VLANs. Its design is based on its existing line of AdvancedTCA hub boards which, for GbE to 10 GbE migration purposes, provides tremendous economies of scale and faster deployments for designers who have aleady designed applications with the Kontron AT8901 and AT8902 hubs. The Kontron AT8904 supports full IPv6 routing and a line rate switching capacity of 200-Gbps which makes it the ideal hub for high traffic broadband media server network elements.
NAVRHNEME VÁM ŘEŠENÍ NA KLÍČ
Hledáte technologického partnera? Neváhejte se na nás obrátit.