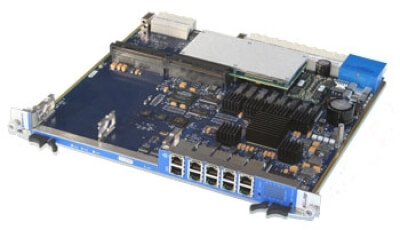 AT8901
AdvancedTCA (ATCA) Switch with dual Mid-Size AMC slots Supports Base Interface (GbE) For 14 and 16 slot shelves 2 Mid-Size AMC slots for customization Comprehensive protocol support Full Hot-Swap capabilities Full Redundancy support
PRODUKT JIŽ NENÍ URČEN K PRODEJI
Detail
Now available with either Mid-Size AMC slots

The Kontron AT8901 is a PICMG 3.0 and 3.1 compliant Hub Board for AdvancedTCA shelves. Suitable for dual-star and full-mesh configurations in 14 and 16 slot systems it also provides 2 Mid-Size AMC slots for customization. This unique versatile design allows cost-optimised tailoring to the requirements of the application. AT8901 is designed for server-based applications.

AMC slots can be equipped with
* Processor-AMC, e.g. acting as the system controller (saving 1 ATCA slot)
* Storage-AMC as mass storage device for the Processor-AMC

The Base Interface switch provides Gigabit Ethernet services on Base Channels 2-16 and to the Shelf Manager(s).
NAVRHNEME VÁM ŘEŠENÍ NA KLÍČ
Hledáte technologického partnera? Neváhejte se na nás obrátit.