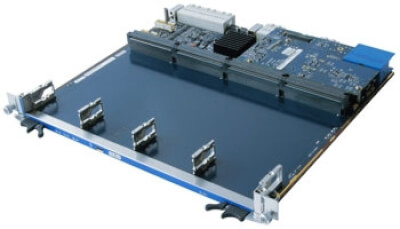 AT8404
AdvancedTCA 10GbE Fabric AMC Carrier PICMG 3.0, PICMG 3.1 option 9 compliant carrier board Four (4) Mid-Size AMC slots that support AMC.0 rev 2, AMC.2, AMC.3, and AMC.4 10GbE redundant Fabric Interface with support Gigabit Ethernet switching Telco
PRODUKT JIŽ NENÍ URČEN K PRODEJI
Detail
AdvancedTCA 10GbE fabric carrier with 4 x Mid-Size AdvancedMC slots

Built for Maximum Design Versatility
The Kontron AT8404 is one of three key open modular platform elements that complete Kontron's 10 GbE product portfolio. As a PICMG 3.0/3.1-compliant AdvancedTCA carrier board, the AT8404 sets an industry precedent with 4 Mid-Size AMC slots that support a full range of AMC modules including – TDM interfaces (E1/T1, STM-1, OC3), NPUs, DSPs, PrAMCs and Storage AMCs.
AdvancedMC-Everywhere integration for customization
The Kontron AT8404 provides equipment manufacturers the flexibility to customize the design of their network system solutions, especially for various 10 GbE-based systems that drive IMS-based broadband applications that require the seamless delivery of video and data content in IPTV or VoD networks.
Full Redundancy and High Availability
Suitable for dual-star configurations in 14- and 16-slot systems, the AT8404 is hot swappable, supports full redundancy, and provides PCI-Express, SRIO or 10GbE direct AMC interconnects. For storage solutions, the AT8404 additionally provides SAS/SATA direct AMC interconnects. With full IPMI 1.5 support, the AT8404 also features a dedicated ìController as an additional Firmware Update Manager (FWUM) for field upgrades, rollbacks and watchdog functions.
NAVRHNEME VÁM ŘEŠENÍ NA KLÍČ
Hledáte technologického partnera? Neváhejte se na nás obrátit.