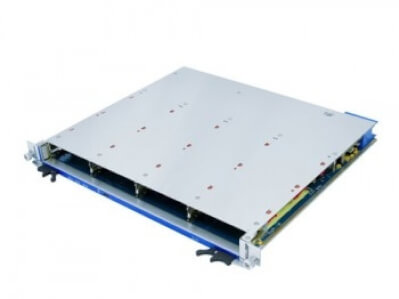 AT8402
AdvancedTCA four-slot AMC Mid-Size Carrier PICMG 3.0/3.1-compliant base and fabric carrier board, featuring PCI-Express and SAS/SATA infrastructures. AMC.0 Rev 2.0 clocking support Increased Ethernet Controller performance PCI-Express and Gigabit Et
PRODUKT JIŽ NENÍ URČEN K PRODEJI
Detail
Four (4) AMC slots for Mid-Size AdvancedMC modules

The AdvancedMC-bays in the AT8402 can be populated with a wide variety of field-replaceable modules, such as Processor-AMCs, Storage-AMCs and telecom specific I/O-AMCs.

With this flexibility, the AT8402 significantly simplifies and expands the design options available to telecom and network equipment manufacturers planning to design systems using open modular platforms.

Full array of application possibilities

Telecom and network equipment manufacturers who design various wireless or wireline network elements can now choose from several configurations of Kontron AdvancedTCA and AdvancedMC building blocks, fully integrated into a total open modular solution, such as:

1 x Processor AMC; 1 x Storage AMC; 1 x DSP AMC; and 1 x I/O AMC Ideal for an IMS-based VoIP Gateway with the OS on the processor and storage AMCs, while the DSP AMC handles a transcoding application.

4 x Processor AMCs Utilized for an assortment of applications that require high processing performance on multiple independent processing nodes on one AdvancedTCA board.

2 x Processor AMCs; 2 x Storage AMCs to power fully redundant database/storage applications.

1 x Processor AMC; 3 x Storage AMCs (SAS) For a RAID 5 storage implementation using SAS AMCs (i.e. to store multimedia content such as streaming video.)

3 x I/O AMCs; 1 x Storage AMC driven by a Processor board, which would be used as a general purpose I/O extension.
NAVRHNEME VÁM ŘEŠENÍ NA KLÍČ
Hledáte technologického partnera? Neváhejte se na nás obrátit.