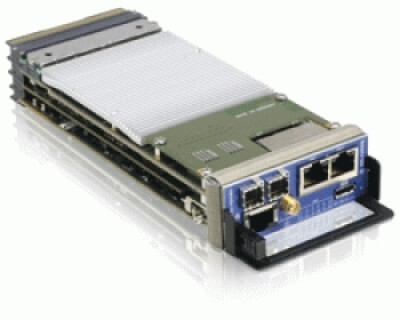 AM4904 / AM4910
High-End MicroTCA Carrier Hub (MCH) with Enterprise Class Ethernet Switching
PRODUKT JIŽ NENÍ URČEN K PRODEJI
Detail
The Enterprise-Class AM4904 / AM4910 MCH provides the central management and data switching entity for all kind of MicroTCA platforms.
To fit to the different needs of various applications the AM4904/AM4910 comes in four versions, (1) as a pure Gigabit Ethernet switching MCH (AM4904-BASE), in combination with (2) sRIO (AM4904-SRIO), or (3) PCIe switching (AM4904-PCIE) and (4) the highest bandwidth offering 10 Gigabit Ethernet switching (AM4910).

The powerful 600MHz processor for MCMC functionality and switching management enables a highly efficient MCH implementation for up to 12 AMCs, 2 cooling units and 4 power units and for usage in applications requiring a redundant architecture. A sophisticated clock implementation supports various Telco clocks and the PCI Express Fabric Clocking distribution.

Designed to support Enterprise-Class fully-managed Layer2 switching capabilities the AM4904 /AM4910 provides Quality-of-Service functionality like Traffic Priorization, Access Control and Multi-Cast including full 4K VLAN, Link Aggregation - to name just a few. The Layer3 management capabilities can be offered on project request.
High-sophisticated, full-featured MCH

Supports all popular Fabric implementations for MicroTCA: GbE stand-alone or combined with 10 GbE or PCIe or sRIO switching

Powerful Enterprise Class L2 non-blocking managed GbE and 10 GbE switching capabilities (L3 option on both Fabrics)

Linux-based high-performance 600 MHz PowerPC CPU for MicroTCA Carrier and Shelf Management, Switch Management

Support for up to 12 AMCs, 2 cooling units (CU) and 4 power modules (PM)

MCH update and cross-over Channel for redundant applications

Full set of standard defined IPMI and MicroTCA management functions

Comprehensive clock generation and distribution module

Broad set of front panel interfaces: uplink ports and management port, clock input, control LEDs
NAVRHNEME VÁM ŘEŠENÍ NA KLÍČ
Hledáte technologického partnera? Neváhejte se na nás obrátit.