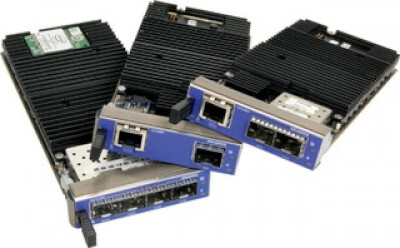 AM42xx
AMC Series of GbE/10GbE Intelligent IO modules Cavium OCTEON Plus 5650 Network Service Processor provides high-density, high-bandwidth serial I/O for networking. Multiple Front Panel configurations: * AM4204: 4x SFP GbE * AM4210: 1x SFP+ 10GbE and
PRODUKT JIŽ NENÍ URČEN K PRODEJI
Detail
Kontron enhances its ATCA 10GbE portfolio with the introduction of the AM42xx series of AdvancedMC GbE/10GbE Intelligent IO modules based on the next-generation Cavium OCTEON multi-core packet processor. The AM42xx AMC modules are are optimized for layer 4 to 7 data and security processing, targeting access and service providers with 3G/4G BTS, RNC, xGSN and Media Gateways.

The Kontron AM4204 is the first in the series, featuring 4 x 1GbE ports to the front and software configurable interfaces to the Fabric side (PCIe, 4x 1GbE or XAUI). When integrated with an ATCA switch, the Intelligent IO module provides exceptional added functionality such as load balancing for Web Server, SIP Server, SSL Offload, and content- or application-aware processing applications. Likewise, its can support QoS over Ethernet for IPTV, video on demand and any other broadband media services.

A second module in the series is the Kontron AM4220, a 10GbE card with 2 x 10GbE to the front and PCIe to the fabric side. When integrated with an general purpose ATCA processor node, like the Kontron AT8020, the Intelligent IO module provides exceptional added functionality such as for wireless and wireline security packet inspection applications.

For those applications that require treatment of data packets via the backplane to a system node processor blade, the new Kontron AM4210 offers the required flexibility. This I/O modules is designed with 1x SFP+ 10GbE and Serial RJ45 on the front panel and two Fabric Interface options which are switchable via software. The FI options* are:

1. 1x 10 GbE XAUI (8-11), or,
2. 4x GbE (8-11) (1000 BASE-BX)
*Each option includes 4 x PCIe (4-7).

Like the AM4220 and AM4204 modules, the AM4210 features 2GB of 144bit DDR2-800 memory onboard, including EEPROM, as well as support GbE on Ports 0 and 1 via a PCIe MAC/Phy connected to the Cavium OCTEON processor for boot support and management.
NAVRHNEME VÁM ŘEŠENÍ NA KLÍČ
Hledáte technologického partnera? Neváhejte se na nás obrátit.