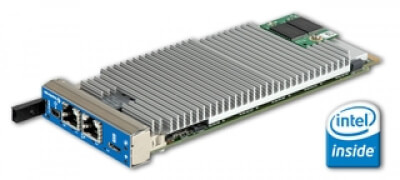 AM4011
Processor AdvancedMC module with Intel® Core2 Duo AMC Processor Module, Single-module Mid-size Intel® Core2 Duo 1.5GHz Up to 4 GByte SDRAM memory (soldered) with ECC running at 400 MHz Up to 8 GByte NAND Flash memory via onboard USB 2.0 Flash Contro
PRODUKT JIŽ NENÍ URČEN K PRODEJI
Detail
High performance Processor AMC
The AM4011 is a highly integrated CPU board implemented as a Single-module Mid-size Advanced Mezzanine Card (AMC). The design is based on the Intel® Core2 Duo processor combined with the Intel® 3100 server-class chipset.
The board includes up to 4 GB registered Double Data Rate (DDR2) memory with Error Checking and Correcting (ECC) running at 400 MHz.
Comprehensive Ethernet connectivity is provided by two dual Gigabit Ethernet controllers (two to the front, two to the AMC ports 0/1) each utilizing a x4 lane PCI Express interconnection to the Intel® 3100 chipset ensuring maximum data throughput. The AM4011 further provides up to 8 GB Flash memory via an onboard USB 2.0 NAND Flash Controller.
Optimized for high-performance, packet-based communication systems, the AM4011 is targeted towards, but not limited to the telecom market application such as radio network controllers, media streaming, traffic processing, database management and routing. The AM4011 also fits into all applications situated in industrial environments, including I/O intensive applications. The careful design and selection of high temperature resistant components ensure a high product availability. This, together with a high level of scalability, reliability, and stability, make this state-of-the-art product a perfect core technology for long-life embedded applications.
Vlastnosti
| | |
| --- | --- |
| CPU | Intel® Core™ 2 Duo, 1.5 GHz |
| DRAM | Up to 4 GByte registered DDR2 400 MHz with ECC |
| Chipset | Server-class chipset Intel® 3100 |
| Compliance | PICMG: AMC.0 R2.0 / AMC.1 / AMC.2 / AMC.3; Support for IPMI 1.5, SOL |
| Connectivity | AMC System Interconnect: 2x GbE , 1x PCI-Express x4, 4x SATA, COM2 |
| CPU L2 Cache | 4 MByte |
| Flash | Up to 8 GByte NAND Flash |
| Form Factor | Single module, mid-size |
| Front Side Bus | 667 MHz |
| Frontpanel | 2x GbE, 1x USB 2.0, 1x COM(mini 8-pin), 4 Control/Status LEDs (bi color) |
| Graphics | - |
| Options | - |
NAVRHNEME VÁM ŘEŠENÍ NA KLÍČ
Hledáte technologického partnera? Neváhejte se na nás obrátit.