Základní informace
Based on 6 screen sizes and 2 Intel processors of the 6th generation – i3 & i7 – the A4R MK3 panel PC range features outstanding configured COTS products defined as SKUs - Stock Keeping Units -.  In a context of a dual approach, these SKUs has been qualified at 2 levels of ruggedization according to the generic requirements of Military and Industry worldwide markets. In the military field, A4R ranges have been declined in 3 domains to meet the specific Navy, Army and Airborne international standards.
IRTS is a build to order company. A4R production scheme responds either to one shot customers' orders or to customer long-term programs. In that case the product's life cycle is managed by IRTS who is able to propose contract-management services to manufacture and repair the products over a long-period of time – over 12/15 years.
Specifikace
A4R Mark 3 motherboard's architecture is COM Express Type 6  based, which enables to mount last generation processors with extended life duration.
Our panels are therefore equipped with Intel 6th generation processors that allow the best performance / consumption ratios which are key features when it comes to extreme conditions of use.
Description of A4R standard board computer is as follow :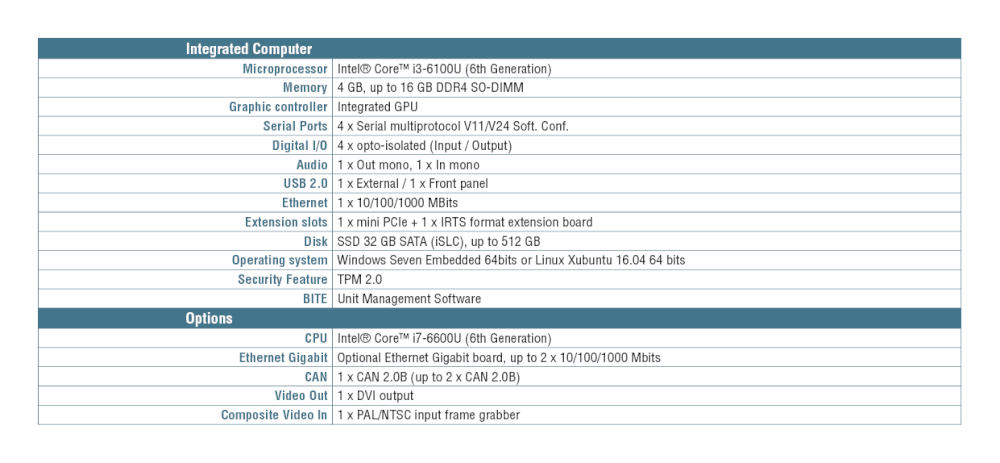 A mini PCIe extension slot allows our customers to use a card of their selection. The motherboard also integrates a custom extension slot for an IRTS' optional custom PCI Express card which allows IRTS via light custom designs, to adjust closer to customers' requirements - for example: Ethernet 10Base2, switch Ethernet, synchronous serial line -.
A4R series runs either Windows® 7 Embedded 64 bits – and soon Windows® 10 Embedded - or LINUX® Xubuntu 16.04LTS.

IRTS' QT 5.0 based multi-platform library is available to our customers, which enable them to use monitoring data that can be easily integrated into their applications software. 
PBIT & CBIT tests available through this library allow triggering an alarm if the system defaults; faults coverage rate is therefore high.
Our Unit Management System – UMS – performs IBIT tests, confirms faults and refines diagnoses. 
NAVRHNEME VÁM ŘEŠENÍ NA KLÍČ
Hledáte technologického partnera? Neváhejte se na nás obrátit.