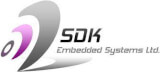 SDK Embedded Systems Ltd. design and manufacture innovative solutions that are reliable and configurable for most rigorous requirements. Our solutions are designed for environmentally rugged markets, including Military, Defense, Industrial, Medical, Semiconductor industry, Automation, Logistic and Transportation. SDK Systems delivers rugged computer systems and accessories for customers with specialized needs in the world's most extreme environments. We provide a wide variety of solutions; rugged systems, computers, displays, recorders, network switches and other devices. We understand that reliable operation in harsh environments is the overriding requirement, that downtime is not an option. Reliability is our business! SDK Systems is committed to meeting our clients' requirements for high quality rugged products, superior service, and excellent value. Every customer has distinct requirements, and it is our goal to ensure our ruggedized computer solutions meet these needs while anticipating future requirements.Of course, we understand that when it comes to your investment in industrial, rugged computing, you can't afford to make a mistake. That's why we are committed to providing only the highest quality solutions and service to our customers around the world. After all, your success is our success! With unique in-house design, production and testing facilities, we create computers to provide reliability, longevity and consistency – in accordance with your individual requirements. Our expert team can also carry out a multitude of tests to make sure your equipment is compliant and fit-for-purpose. We offer a dedicated customer service that comprises support, repairs and preventative maintenance, and over the years we've forged relationships with diverse partners to achieve broader technical innovation.From concept to production, every step incorporates the philosophies of integrity, innovation and longevity.
NAVRHNEME VÁM ŘEŠENÍ NA KLÍČ
Hledáte technologického partnera? Neváhejte se na nás obrátit.